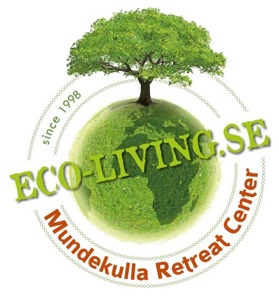 "Mundekulla Eco-Living" is our policy to make your visit as environmentally friendly as possible.

"Consider the impact of every important decision on the next seven generations"
~ Native American proverb


Background
As a part of my studies in behavioural science, I studied Native American history at University of La Crosse in USA in 1996. When I came across the seventh generation principle, I thought: Would it be possible to run a business based on this principle? When I came back to Sweden after my studies, I spent a year in solitude in a ten-square-meter cabin one kilometre from Mundekulla to put all the things I had learnt into practice. In 1998, we bought the Mundekulla farm, which is now developing into an international cultural centre where our aim is to run all parts of our business in a sustainable way.

Peter Elmberg, founder of Mundekulla
Mundekulla's Sustainability Vision
Mundekulla is growing continuously and organically. Our aim is to build, develop and run our business in accordance with nature. These are some of the ways in which we are working to create a sustainable experience for our visitors:


Food
At least 80 % of the food we serve is organic and vegetarian or vegan (around 10,000 portions per year).
- We buy most of our vegetables from Solmarka, a local, biodynamic farm, located south-east of Kalmar.
- When needed, we buy additional organic vegetables from the local supermarket or other suppliers.
- We buy all of our dried foods from Bio Food in Stockholm.

Public Transport
Mundekulla is located 10 kilometres from Emmaboda, which is easily accessed by train (3–4 hours from Stockholm, Gothenburg and Copenhagen).
- Half of our guests travel by train, and we offer a ride from the trainstation
- We have chosen not to host events with more than 300 participants in order to keep our environmental footprint low.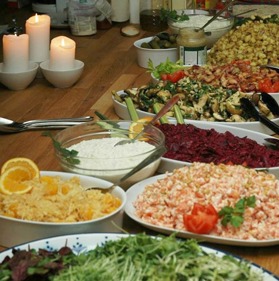 Electricity and Heating
- In 2013, we installed one of the largest solar panel systems in the region (120 m2, generating 17,000 kWh/year).
- Apart from solar energy, we use geothermal heating and ten air heat pumps.
- We mainly use LED lamps and compact fluorescent light bulbs.
- We organize most of our events during the summer, when less power is required for heating.

Internet Access
- We were the first village community in Kalmar County to receive fibre broadband (100 mbit) in 2013.
Buildings
- We have insulated with sustainable materials, such as wool, hemp, flax, eco fibres, cutter shavings, wood wool, cork and straw.
- Our ceilings were insulated with five containers of cutter shavings from a local sawmill.
- A large part of our building material is recycled, such as windows, toilets, sinks, tiles and wood.
- All of our facilities have been painted with traditional linseed oil paint and whitewash.
- Our buildings were primarily built with wood from our own forests: trees that fell during the storms Gudrun and Per.
- We have built a small house ('Sanctuary') from clay and straw which has caught a lot of attention.
- We have built a small cabin ('Fristunden'), without electricity and running water, which is heated with solar power.
- Our two main buildings were built from sixteen recycled building modules (10 x 2.60 m).
- We have turned an old earth cellar into a smithy, a flax drying room into a sauna and a hay barn into a farm museum.
- We have brought some of the Viking cabins that were used in the Arn films to Mundekulla and rebuilt them, insulating with flax.
- Our balconies and terraces were built from oak (mainly from our own forests), using as little compregs as possible.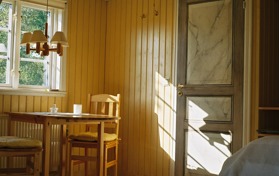 Forest and Nature Conservation
- We have dug four ponds to purify the water from the cultivated land to the forest.
- We have built walking trails and created nature reserves in our forest of sixty hectares.
- We have chosen to preserve around two hectares of fellable mature forest with moss and beard lichen.
- There is a barn in the forest which can be used for overnight stays in the wilderness.
- We have planted around two hectares of deciduous forest (with fencing) to increase diversity of our forests.
- We have build a 25-metre-high observation post (with accommodation) where you can look at the wilderness in all directions.

Recycling
- We have a recycling station where we sort and recycle our garbage.

Plumbing
- Some of our toilets are urine-diverting, which means that the feces are composted and the urine is used on our fields as a fertilizer.
- We use a four chamber septic tank instead of three to make sure the water is properly purified.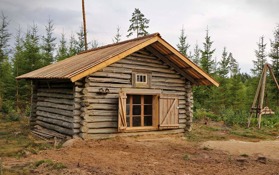 Culture and Products
- We have a gallery and a shop where we sell fairtrade and organic products as well as our own art and music.
- We have built an amphitheathre in an old gravel pit, where, among other things, we play our musical Hemstannarna.

Study Visits
We offer guided tours for pre-booked groups (but our rooms are not for rent). Contact us if you wish to book a study visit: info@mundekulla.se.

Awards
We have received several awards throughout the years. Read about them here (in Swedish).
In 2009, Swedish newspaper Expressen wrote about Mundekulla Eco-Living. Read it here (in Swedish).

Our philosophy: a meeting place for the past and the future
Our houses were built or restored from a sustainable perspective, where old methods and techniques have been combined with modern knowledge. In other words, we have mixed the best of the past with the best of the present to create the best possible future. Environmentally friendly products and solutions are sometimes more expensive, but we have been able to keep costs low through conscious consumption, the use of recycled materials or wood from our own forest, and other constructive and innovative solutions. Mundekulla is a place where the past meets the present, aiming for a sustainable future.